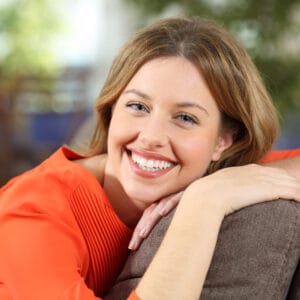 Change your attitude, change your smile, and change your life with cosmetic dentistry at Devin, Dickinson, DDS!
Everyone wants a beautiful smile, but the benefits of creating a visually pleasing smile go beyond the aesthetics. The most important part of everything we do is the change in our patients' happiness. Patients who choose cosmetic dentistry are no longer hindered by the previous aesthetics of their smile, and they can openly laugh and smile without being self-conscious.
Cosmetic Dental Treatment Options
Eliminate gaps or missing teeth, repair chipped or cracked teeth, improve the whiteness of your teeth, and even straighten slightly crooked teeth with:
Balancing Form and Function
Dr. Dickinson plans each cosmetic makeover with a complete understanding of the balance between form and function. By using study models, a facebow to record the patient's jaw relation, and an articulator to mimic the patient's jaw function, Dr. Dickinson can provide cosmetic dentistry that not only looks aesthetically pleasing but will last for many years to come.
Of course, without a healthy foundation, whatever we do cosmetically will not last. For an oral-health assessment and smile-makeover consultation, contact our Arlington, WA dental office!