Dr. Nousha Panahpour: Comfortable, Compassionate Care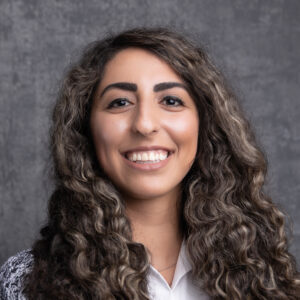 To me, the most enjoyable part of being a dentist is the patient interactions- creating connections, setting goals, and mutually obtaining those goals in a calm and caring environment. I consider it an absolute pleasure to be entrusted with patients' smiles and love helping patients restore health and function, and happiness and confidence.
About Me
I grew up in Edmonds and attended Edmonds-Woodway High School.
I am a husky through and through and earned my Bachelor's and Doctor of Dental Surgery Degrees from the University of Washington. I went on to complete advanced general dentistry training at UW's General Practice Residency program. I have experience in the treatment of patients with complex medical and dental needs and rotated through the Seattle VA, Harborview and UW Medical Centers, in addition to general and specialty dental clinics.
After completing my training, I joined the faculty in UW's Oral Medicine Department and DECOD (Dental Education in the Care of Persons with Disabilities) clinic. I love teaching and enjoy my weekly time there.
I strongly believe in patient-centered, transparent care, and like to involve patients in every step of the treatment plan. I strive to treat every patient like family and provide care that is of the highest quality.
I am excited to join Dr. Dickinson and his team at a family-friendly practice that shares my approach to patient care.
I look forward to meeting you and taking care of your smile.
Professional Affiliations
I am fascinated by the theories, materials and technology that continue to make dentistry more efficient and effective. I excitedly attend numerous continuing education courses to advance my skills and stay up to date with the latest advancements in the field.
I am an active member of (the):
American Dental Association
Washington State Dental Association
Academy of General Dentistry
Snohomish County Dental Society
 Languages Spoken
Outside the Office
Outside of dentistry, I enjoy spending time with family and friends, going to fitness classes, running, or taking a relaxing stroll along the beach. My favorite food is burgers and I am always looking for new burger spots to try out!