Devin Dickinson, DDS - Helping People Smile and Laugh with Confidence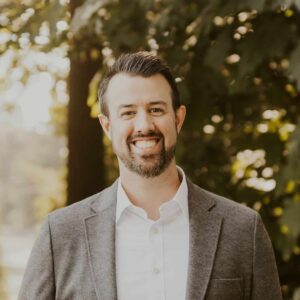 I love being a dentist! Every day I meet people from our diverse community, build relationships, and strengthen connections. Dentistry is more than fixing teeth: it's caring for the whole person and partnering as they achieve their strongest, healthiest, most confident smile. As a child, I was teased because of my teeth; I went through braces – twice! These experiences developed into a passion and desire to help others be confident in their smile. I want people to be able to laugh and smile without feeling concerned about the appearance of their teeth and gums. Whether I'm taking care of a child at their first visit, improving an adult's smile, or restoring function, I'm making a difference. More personally rewarding are my relationships with patients. I learn a lot from our exchanges, as people talk about their lives, passions, and experiences. Their stories expand my world, making me a better dentist and a better human.
My Team
My team is the true strength of our practice. Each shares my commitment to deliver exceptional, personal care. They put patients first in all they do, whether it's a gentle cleaning, ease of scheduling, or sorting out insurance. My team members are experienced professionals who are warm, friendly, and supportive. They are here to help and do so with many smiles.
Education and Continuing Education
I'm a local guy: born, raised, and educated! My undergraduate degree is from Western Washington University and my Doctorate of Dental Surgery (DDS) was awarded at the University of Washington. We live in a time of constant advancements in dentistry. Continuing education (CE) is an essential part of my profession. I use CE to grow my skills and knowledge in areas that benefit my patients and our community, from pediatric techniques to cosmetic dentistry to oral surgery. My goal in pursuing CE is to ensure our patients receive the highest quality dental care, whatever their needs and desires.
Professional Memberships
American Dental Association
Academy of General Dentistry
Washington State Dental Association
Snohomish County Dental Society
University of Washington Dental Alumni Foundation
Beyond the Office​
I grew up in West Seattle and now live in Everett. I have a young daughter who keeps me busy!  Being from the Pacific Northwest, I can't help but love to get outdoors, whether I'm hiking, snowshoeing, or camping. I love to travel, and try to visit at least one new country every year.
Giving Back​
The Arlington community is very important to me. To help support it, I've been an active member of the Rotary Club for several years. The practice also supports the Arlington Food Bank through annual food drives as well as other community outreach programs. I'm a University of Washington Affiliate Faculty at UW Oral Medicine, where I'm honored to mentor dental students offering dental care to underserved areas of Skagit County through their mobile clinic.  I also volunteer with Serve Our Vets, providing dental care to our veterans.